WARNING: Always make sure you have PLENTY of battery power before performing any type of Fastboot restore. 70% of more is high recommended (RSD Lite and the Command Line Method both won't work if you have low battery). We at DroidRzr.com are not responsible for anything you do to your phone, including bricking it.
IF YOU HAVE LOW BATTERY YOU WILL BRICK.
Downloads

2) RSD Lite 5.6

3) Fastboot Recovery Files for XT912 Razr
Should look like this: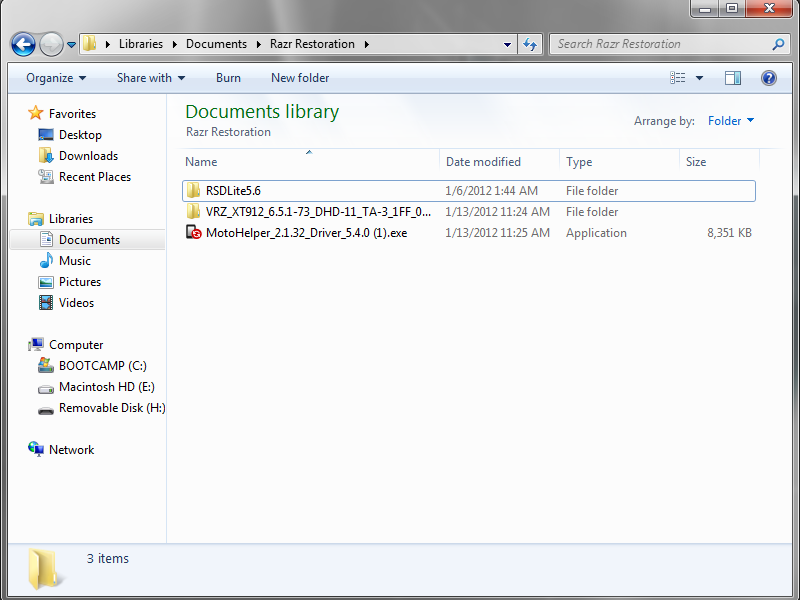 Installation
1) Install the downloaded MotoHelper USB Drivers
2) Extract the Fastboot Files ".zip" to a folder.
3) Install RSD Lite 5.6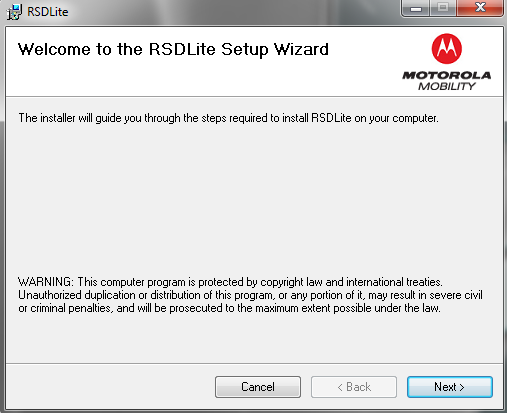 4) Run RSD Lite 5.6 after installed.
5) Choose the extracted Fastboot ".xml" file to the folder you put it in.
Quote
I have those three files in a folder together. Should I extract the fast boot to the same folder?Doesn't matter! As long as you can find the .xml file later for RSD Lite.
6) Put your phone into AP Fastboot mode and connect via USB.
Turn off your phone. If your phone is frozen then hold down the Power + Volume down buttons for 8 seconds and it will turn itself off.
Now we are booting into Moto Recovery and choosing the AP Fastboot option. Hold down both Volumes buttons + the Power button and it will boot into a black screen with white text. Choose AP Fastboot using the on-screen instructions. (The Volume Up button selects and your Volume Down button moves down, for those who cannot read the on-screen instructions.) Special Note: If your device says anything other than "Device is LOCKED. Status Code: 0" then Private Message me. If it says Device is LOCKED. Status Code: 0 then that is normal! Proceed.
Plug your phone into your Windows computer's USB port. It should look like this in RSD Lite:

7) Hit the "Start" button on RSD Lite
8) Wait. Wait. Wait. Wait. Have patience. Wait. It has 18 steps of progress as shown in RSD Lite. Then it will reboot itself and install stuff. After it boots up normally you can unplug it.
9) OPTIONAL: Go back into Moto Recovery but this time choose Recovery. When you get to the "Triangle" with the Android press both Volume Buttons. Choose "Wipe Data/Factory Reset" (This will make sure you are COMPLETELY stock 6.11.744 with no personal data on the system. (Anything in your SD card should be safe, but apps/app data/contacts/etc. will be cleared if you do this).